Digital Marketing Expert for Network Marketing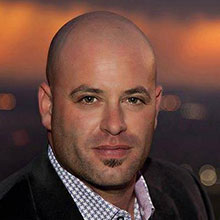 Are you or your company ready for a digital marketing and social media makeover? Your choice of partner in the digital marketplace is an important decision for the future success of your business… And Michael Hamburger shares that his company, Ezzey, can help!

Michael Hamburger believes the key to being personally successful is to focus on helping others, and this philosophy has served him (and his clients) well. Michael has had success across multiple business ventures, both in traditional business and within the network marketing industry for decades, and now he and his team bring highly prized, valuable marketing services to small business owners from around the world.

Michael has been a distributor, a company executive and owner, and highly sought-after trainer, helping people from all walks of life experience the benefits of a prosperous and abundant lifestyle. He served as the Chief Sales Officer for a company that grew from 1 million dollars in sales his first month, to 2 million in his second month… and ended up hitting the $36 million mark within that first year!

Michael and his team can become "the expert in your corner," who can help you with your digital strategy, large or small - and the tools, systems and know-how that can help you create leverage in a big way. Imagine being able to achieve a $16 million mark in "invisible sales mode" or cornering a market that added 40,000 new e-commerce sites into Shopify within 120 days? This is the kind of unprecedented success that Hamburger and his team breed...

Michael's company is called Ezzey (pronounced "easy"), a branch driven digital marketing agency aimed to bring the small business owner further into the world of digital marketing, as a guide and partner.

Digital marketing can seem like a foreign language… that you don't have the time (or patience) to learn! That is where Ezzey comes into the picture. Through Ezzey, Michael guides you through the process of understanding that a digital marketing plan involves so much more than a makeshift, digital billboard. Michael developed Ezzey with the goal of providing huge value for business owners through a highly qualified, motivated and dedicated team of experts who are invested in your long-term success as a small business owner. Michael's passion is helping others not only dream big, but achieve big.

As a business owner Michael helps you harness the power of the digital world, within a very affordable range. It is an exciting time to be in the digital marketing world, and Ezzey buzzes with integrated ingenuity, enthusiasm and passion for the power of digital marketing.