Network Marketing & Personal Development Power Couple!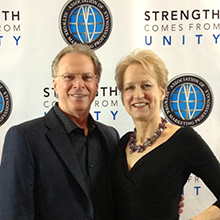 ABOUT RON FORRESTER
Ron Forrester is an internationally known and respected Network Marketing Author, Consultant, Trainer and Speaker, who has been featured in many industry publications. He has been a Network Marketing Professional for 36 years as a distributor/associate building large sales organizations in the US and internationally in many countries.

Starting as a spare time associate in 1980 while working as a Pharmacist, Ron built his first organization to producing an income that was over three times his Pharmacist annual income, and retired at 36 years old from corporate America, as he says, "Forever."

Although educated as a Pharmacist, Ron retired from Pharmacy at the age of 36 and has been Full time in relationship marketing since 1983 he has become the Number One associate for three companies, and in the top 5 in two more. Ron retired from the industry in 2005, however, Ron's experience in teaching others to be successful in network marketing--coupled with his genuine desire to help people and the fun of building an mlm/networking business--is why Ron was ready to come back into the market.

So, when Jeff Olson, long-time friend and peer, asked him to come back to work on a project to teach members of an organization how to take their success to a higher level prompted Ron to once again engage in the fun and profitable networking profession.

Ron now knows this was one of the most critical decisions of his career and in just 10 short months Ron can see his income has eclipsed his prior efforts in relationship marketing. In just 11 months Ron grew the organization to over $2,500,000 in monthly sales.

Ron says he is having so much fun he will never retire again!

ABOUT LESLIE HOCKER
A Next Level Achievement Coach, NLP Trainer, & Trade Secrets for Marketing Your Business Online author, her passion is helping people create and have success in all areas of their lives.

Personal Development started for Leslie in her early 20′s, when she realized that in order to accomplish big dreams she would have to grow. And, that continues to this day.

As one of the first female executives in the oil industry, she needed any edge possible and becoming self aware through personal growth gave her that edge.

In 1984 she became involved in the Network Marketing Industry, which led to her meeting Tony Robbins, when he joined that company. In 1986 she went on to work with The Robbins companies for over three years. During that time, she met and worked with top executives from different industries all over the world.

As a result of those associations, she met Jeff Olson, former owner of The Peoples Network (TPN). TPN was a personal development satellite channel. She was lucky enough to learn from Mr. Olson and the majority of the legends in the personal development arena. It was at TPN that she met and was then very fortunate to be mentored, for almost 10 years, by the late Paul J. Meyer, founder of Leadership Management Inc., an international leadership and organizational development company.

Her work as a Next Level Achievement coach is heavily influenced by her having built multi-million dollar sales and marketing organizations in the U.S. and Europe and her time spent being mentored by Mr. Meyer, his team, and the empirically validated research processes of awareness, measurement and transformational learning, designed to accomplish one thing – to develop master achievers.

"I'm having fun… I'm making a difference in people's lives… and I'm absolutely dedicated to making sure the success philosophies and principles that I was fortunate to learn over these years get passed on to people who are ready to hear them."

In 2011 Leslie decided to team up once again with her husband to work as Brand Partners with a network marketing company, in which they have helped the company to break all industry records for sales and growth of the company.