How did John go from a $9.00 an hour maintenance manager, on call 24/7, dyslexic, living in a trailer park… to a Network Marketing Legend with career earnings over $17,000,000 and lead his team to earnings of more than $250,000,000?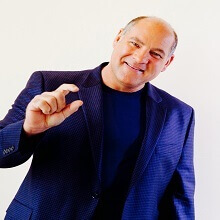 John Haremza is a 26-year veteran of our industry with personal earnings of $17,000,000 and product sales over half-a-billion dollars. His proudest accomplishment? Helping his team earn over $250,000,000. John has been a top earner and Master Distributor for the past 12 years with average earnings close to $1,000,000 a year.

John released his latest book in December, Right or Almost Right, which quickly became an Amazon best seller. Right or Almost Right is an easy read that tells the inspirational story of John's rise from rags to riches, from a dyslexic maintenance manager in a potato chip factory in rural Minnesota, on call 24/7, living in a trailer park to a network marketing legend. Back then John thought he had the best job he would ever have. His family and friends thought so too.

Right or Almost Right is all about the fine line between phenomenal success and average results in network marketing. As John says, "As I travel I meet many hardworking, talented, sharp distributors who are working hard and believe that they are doing things right. But they are frustrated and not making the money they expected to make." John's contention is that they are doing things "almost right." His book articulates how hardworking distributors can make small adjustments that can make a major difference in their lives. They could see a huge difference in their results and soar from making a little money to making a lot of money.

Like many, John's introduction to Network Marketing was by accident. A friend invited him to his house to look at water filters.

As John says, "I assumed that he wanted me to evaluate the product or build a product display. I had absolutely no sales experience and no knowledge of business. We had a problem on the production line so I was several hours late for the meeting.

"I remember that meeting as if it was yesterday. There I was two hours late still wearing my blue work uniform, smelling like a potato chip, wearing my safety glasses and yes, even my hair net. I can still see the expression on the faces of the two suits from Minneapolis. 'We waited two hours for this guy?'

"I was totally exhausted from another 12-hour day. All I really wanted to do was go home and collapse on the couch. But I made a commitment to be at Dan's house, so I went. It's amazing how one small step, no matter how insignificant it seems at the time, can change your life forever.

"My philosophy is that success is based on making Small Steps not quantum leaps. Looking back this was one of those Small Steps that make a big difference. I often talk about how success is a series of small steps. This was one small step I took that changed my life forever."

Just imagine the compounding impact of that decision on the thousands of lives that John has touched. John talks more about his Small Step philosophy in his book. Then he talks about the small adjustments that can make the difference between success and failure in Network Marketing.