Former U.S. Congressman (R-TX), Distinguished Global Businessman, Bestselling Author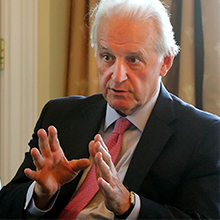 A former U. S. Congressman (R-TX) and global management consultant, Alan Steelman has achieved much political and business success.

Alan is the former former Chairman of the Dallas Council on World Affairs, the Boards of Directors of Sterling Software (NYSE), Aristocrat Technologies (ASX), and the Texas Growth Fund, and the former Vice Chairman of Alexander Proud foot Company. He is a Baylor University graduate, and holds an MLA degree from SMU. He was a resident fellow at the Institute of Politics at Harvard University.

His career in politics is marked with distinction: youngest member of U.S. Congress at election, top 200 young emerging leaders in America by Time Magazine, "One of the best ever sent to Congress from Texas.", by Dallas Times Herald, top five of the most effective members of the twenty-four-person Texas Congressional Delegation by Texas Monthly, one of the ten best Congressmen in the country during his second term by New Times Magazine.

His global business career spanned thirty-five years, including eight years in Singapore as President of the Asia-Pacific region for Alexander Proud foot, culminating in his term as Vice Chairman of the company and Chairman of Board of Advisors, a global group of former Fortune 500 company Chief Executives.

He is guided by his own personal North Star; his mantras in life are "Be not inhospitable to strangers, they might be angels in disguise" and "whatever you have done to the least of them, you have done unto me." He became a certified yoga instructor after discovering the healing magic of yoga and meditation. His book, "Exiting the A.S.A.P. Lane" shares this message with others.

Alan is a skilled, persuasive public speaker, who dedicated his entire adult life to politics and business. He traveled widely, lived abroad in Singapore and Sydney, and is highly qualified to address a wide range of business and political issues. Currently he works with companies and organizations to address the impact of stress and anxiety on company productivity, performance and employee engagement. He effectively worked with many world leaders and over 1,000 CEOs in top global companies. He speaks to audiences all over the world.