Author of the Ultimate Success Formula, Founder of the Unlimited Success Academy, Helped Hundreds of Entrepreneurs Become Millionaires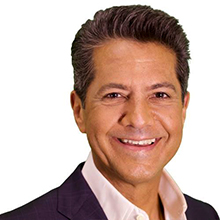 CARLOS MARIN is a Mega Business Builder who has created marketing, recruiting and training systems that have trained several million entrepreneurs from over 30 countries around the world and generated billions of dollars in sales revenues.

He is the founder of the Unlimited Success Academy, a comprehensive transformational personal development training system for entrepreneurs, business owners, sales professionals, network marketers, and upward mobile achievers. He is the author of the bestseller, The Ultimate Success Formula, creator of Your Unlimited Life podcast show on iTunes and soon to be released TV show of the same name on his YouTube channel CarlosMarinTV.

While best known for his leadership skills and innovation in building and training massive marketing organizations, Carlos' intense interest in why things work the way they do in this world drove him to an in-depth study of Universal Principles. This resulted in his mentoring people in personal development and peak performance not just sales strategies in his marketing organizations. He consistently used his huge enterprise as a laboratory to test success philosophies and principles in real-world business environments, which resulted in the unparalleled success of his businesses. This led to the development of a system of training and education that truly empowers people to achieve their dreams and goals by overcoming their conditioned limiting beliefs, psychological wounds and self-sabotaging habits.

Carlos is a Cuban immigrant born the day after Fidel Castro began the revolution who came to the U.S. when he was six years old. Struggling to fit in at first, his great curiosity led to a love of reading and studying why things happen. Frustrated by his lack of success, at age twenty-six he was blessed to find some wealthy mentors who led him to the Universal Laws of Success. His results applying them in his own life led to his lifetime study of the subject and passion to teach their transformational results to the world.

Carlos's principle-based philosophy is built on Universal Laws that show people how to access the unlimited potential that already resides within them, overcome their psychological reversals and use this inner power to achieve the success, wealth, freedom and happiness they desire in their lives. His system utilizes audios, videos, live events and multi-media Internet content to deliver his life transforming message and tools.

Carlos Marin is a powerful, dynamic and entertaining speaker who has shared the stage with such greats as Denis Waitley, Jim Rohn, Brian Tracy, Zig Ziglar, Les Brown, John Maxwell, Bob Burg, Larry Wilson, Ronald Reagan, General Norman Schwarzkopf, Steve Siebold, Miguel Angel Cornejo, Alex Day, and Camilo Cruz among many others.

Over one million people have attended his live events, which included the largest ever in Latin America where over 67,000 people attended a 2-day training and motivational event at the University of Mexico Olympic Stadium in Mexico City. His audios and videos have sold well over ten million copies in both English and Spanish.

Most recently, Carlos created a web-based Video-Centric Marketing, Recruiting and Training system for a Texas energy company that helped take them from start-up to over $1 billion in annual revenues in 7 years.

Carlos' Personal Empowerment system has helped over one hundred entrepreneurs become millionaires; thousands achieve financial freedom and has evolved over the last 5 years into the Unlimited Success Academy.