True Rags to Riches Story: From Homeless to 7 Figures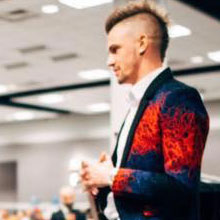 Austin is a young entrepreneur with a true rags to riches story. Having been homeless as little as 4.5 years ago, he has come a long way to where he is now. Earning a residual income of 6 figures monthly, he is far from content and says this is only the beginning.

Although the money is what catches people's attention, that's not what's important to him. What's important is the lifestyle it enables him to live. A lifestyle of supporting his son and mother without concern, taking care of his team he loves like family, and traveling the world to gain experiences he used to only dream of.

Two key factors he attributes his rapid and twice repeated success are; strongly reinvesting in himself and his team, and taking advantage of the hours most people don't. That is to say, when others may be watching Netflix or listening to music, he is reading or listening to a personal development audiobook.

He has built a team of over 13,000 people worldwide extending over 50+ countries, and often tours to as many cities as he can to speak in front of his teams, in rooms of up to 5,000 people.

Austin is passionate about setting people on the right path to success, in terms of building their mind and habits to be optimal for success.

Austin always says, "It's the ones that no one imagine anything or, that do the things that people can't even imagine."