"Masters of Enrollment" Who Were Voted in the Top 25 Network Marketing Leaders in the World and Host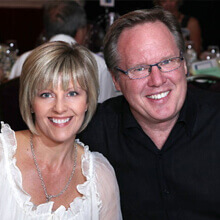 Tom Chenault is a passionate man. Whether he is on the air with his radio program, the Tom Chenault Show, or on the phone encouraging a team member or spending time with his family, you can be sure he is doing it with all that he has. Tom has lived his entire life as if it were the gift he always wanted.

His life has been one big adventure. Tom has been a corporate airplane salesman, a stock broker, a public relations firm owner, a radio show host, and an ultra-successful network marketer. While Tom has made and lost a lot of money during his career(s), he has never lost his infectious sense of humor and his ability to rise to the top of his profession... and help others to do the same. If you asked him what gives him pride he will tell you: outside of his wonderful family, he is most proud of being sober for over twenty years.

Tom is described by many as caring, compassionate and selfless. His drive, whether helping the homeless, or students from the local high school, or those that look to him for leadership in his networking marketing career is boundless. It's his passion to positively impact others' lives that drives him.

While Tom's life's path has been unconventional at times, he says he wouldn't change one minute of it. The experiences have been incredible life lessons. And he is here to share with all of us what he has learned and gained from everything that has happened.

Denice was first introduced to Network Marketing in 1999. Fast forward fifteen plus years and Tom and Denice have created an amazing team of leaders in their company. They hit the the top rank in their company first and were the only ones at that rank for almost two years. Their passion is teaching others to do what they do.

Denice feels strongly that Network Marketing is THE only industry where women can create a life they love with very little start-up cost, no overhead, no degree, and no boss - and that having the ability to have financial freedom, health freedom and time freedom is the result of serving others. Denice has studied Life Coaching with Martha Beck Life Coach Training and she loves empowering, inspiring and coaching women.

The Chenaults have three adult children, Adrian, Courtney and Dominic, one daughter-in-law, Cally, and two grandchildren, Corrine and Linden. They give compassionately in the form of boots on the ground and monetarily to many local charities and foundations. They also travel extensively: in a span of twelve months they were recently in Great Britain, Mexico, Bahamas, West Indies, Argentina and Australia, and have a little Cessna airplane that they fly all over the United States.